COOK FOR YOUR LIFE fresh, delicious recipes - IAN THORPE - ED. HARDIE GRANT BOOKS - WWW.HARDIEGRANT.COM.AU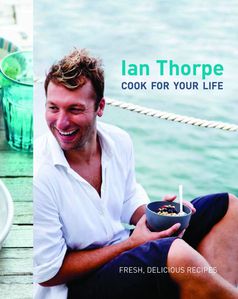 "Cook for your life" ovvero, cucinate per la vostra vita, oppure "cucinate per vivere" meglio s'intende, fresche e deliziose ricette firmate da Ian Thorpe.
Ian Thorpe, celebre nuotatore di fama mondiale rivela nel presente libro il suo amore, meno noto del nuoto, per la sana cucina e ci propone un ricettario di tutto rispetto che unisce l'utile al dilettevole, dimostrando di fare in un tutt'uno "di necessità virtù".
Nei lunghi anni dedicati allo sport che l'hanno portato al successo internazionale, Ian Thorpe ha raggiunto, con le vittorie e i notevoli premi, pure la consapevolezza del valore di una sana ed equilibrata alimentazione.
Per ottenere simili risultati sportivi, non basta solo allenarsi fisicamente con esercizi del corpo, ma è necessario rispettare un ordine alimentare che è imprescindibile dalla stessa ginnastica. Per questa consapevolezza, ha deciso di mettere a frutto, per iscritto, le sue conoscenze in campo culinario, quelle che hanno reso a lui stesso i benefici effetti che l'hanno portato a essere il grande atleta che ancora oggi è, affinché ciò potesse giovare anche ad altri.
Mantenere un corpo sano e vitale non dipende solo dagli esercizi fisici costanti che l'allenamento sportivo richiede, ma anche da una sana ed equilibrata alimentazione, mediante cibi propriamente scelti in conformità a una filosofia alimentare, a sua volta fondata su base scientifica, derivante dai consigli di alcuni esperti di nutrizione e alimentazione che l'hanno seguito nei lunghi anni dedicati al nuoto, con gli innumerevoli successi raggiunti.
Non propone sempre la solita pizza, quindi, ma ricette nuove, fresche, invitanti e tutte da lui testate e descritte in 200 pagine corredate da golose immagini a colori: la zuppa di mango e mirtilli, la torta di mandarini, la zuppa al curry, il sushi, l'agnello…. In fondo al testo un indice analitico, per meglio comprendere gli alimenti presi in considerazione nei diversi menu e per addentrarsi nel tema, prettamente scientifico, della nutrizione.
Pubblicato dalla casa editrice britannica Hardie Grant nell'ottobre 2011 (costo in sterline 16,99) il presente volume, adesso disponibile solo in lingua inglese, è pubblicato anche in versione ebook.
THE AMPERSAND PROJECT - WWW.HARDIEGRANT.CO.UK
Hardie Grant Egmont has always supported emerging writers, and this time we want everyone to know about it. Introducing Ampersand: a new collection of short novels by debut fiction writers.
It's an ambitious idea, but we're excited about bringing new voices to the YA fiction scene. We want to cater to our teenage readers who just aren't into fantasy or paranormal romance, and show them a world just like this one. Real life can be just as dramatic and thrilling as other-worldly adventures, and any teenager who's climbed out their bedroom window for an illicit adventure knows it.
To kick this collection off, the editors of Ampersand are looking for fabulous stand-alone manuscripts about the secret lives of teenagers. We want a voice that leaps off the page, a hint of a literary vibe, and teenage characters facing conflict in the course of their everyday lives. Manuscripts that are by turns funny, dramatic, gritty, romantic, heartbreaking or challenging. Ampersand will give each debut novelist the launch they need to build their profiles in a competitive YA market.
We want Ampersand books to feel real to our teenage readers. We want to push the boundaries, but we're not interested in moral-panic-inducing, usually urban-legendary topics (no sexting or rainbow parties here, please). Speculative elements are welcome, so long as they adhere to the rules of the real world. The difference is in the execution; for example, Tomorrow When The War Began is a real-world exploration of war as it could occur today, but The Hunger Games is not.
Potential starting points for stories:
Changing family dynamics as teens get older; sudden experience of freedom and being able to throw off the shackles of parental rules; cultural clashes.
Encounters with alcohol or drugs (not necessarily as the focus of the story).
Break-ups and heartbreak; lusting after people who are bad for you, either romantically or platonically (e.g. exploring Bad Influences within friendships).
Stress of school and choices about the future – uni and careers bearing down quickly.
Bad decisions, keeping secrets.
Falling in love and first meaningful sexual relationship (in the tradition of Judy Blume's Forever).
Relationships with unusual sexual (or lack thereof) dynamics; age differences, queer identity, girl as the sexual aggressor, religious views, etc.
The writers
The main requirement is that the writer should not have published a novel under their own name with a mainstream publisher, for any age group. The ability to write authentically from the perspective of a teenager is key, as well as openness to collaboration and manuscript development; we are editorially rigorous and want to work with writers who understand the huge amount of work required to take a first book into the market.
Please note that even if you are ineligible for Ampersand, you are still welcome to query us via our unsolicited submissions page.
Submissions
Writers should send the first five chapters and a synopsis of their story to ampersand@hardiegrant.com.au. The synopsis must give a clear indication of plot and character development, and be no more than a page long.
We will publish the collection's first titles in early 2013, so the cut-off date for submissions for the launch is 5pm on Monday 27th February 2012. This is an opportunity for writers who are serious about their craft, so full manuscripts are due in mid-April 2012.
Submissions will continue to be accepted after this date until further notice. Please refer back to this page for updates, or email further questions and media enquiries to ampersand@hardiegrant.com.au.
Please note:
The finished novel should be approximately 40-50,000 words.
Protagonists should be between 16-18 years of age.
It goes without saying, but stories should be real-life and have a contemporary feel – no magical realism or angels, please.
We are open to the exploration or depiction of issues like sexual activity, alcohol consumption, drug use, bullying, mental health issues and death. However, the editors reserve the right to object to anything that feels gratuitous or irresponsible – we want authentic stories, but we also feel a duty of care to our teenage readers.
HGE reserves the right not to contract without a full manuscript. However, if we believe a writer shows promise, we may be willing to provide editorial assistance and development prior to contracting, at the expense of our own time.
Due to the number of submissions, we may be unable to give personalised feedback as to why a manuscript isn't suitable for this collection.
Eligibility for this collection is at the editors' discretion.